A Creatively Sustainable, Colorful Class and Wonderful Happy Students
Painted Purse Class
I enjoyed teaching this class! Everyone had a great, fun time. We started with painting the canvas fabric with
some wonderful paints:
























Applied the base paint:
Stamping with rubber stamps: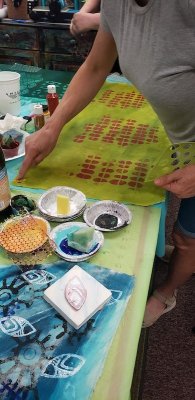 Then we layered on rubber stamps and stencils for texture:




Added some embellishments with trim or buttons.
Cutting and designing the purse:






We then sewed the bags from start to finish:




All of them came out beautifully, and I really think they all loved them. Everyone created the large satchel with or without an outside pocket. Everyone was able to choose their favorite colors.
It is so gratifying to see happy students enjoying their creativity. We used canvas that was nicely softened from use, yet firm enough to hold the paints.
These painted purses are fabulous for any time of the year, and can go with a variety of outfits. The surface design and patterns are unique to each person. A do-it-yourself project that creates a handmade, custom bag that is part of the art therapy movement. Like I stated in an earlier post, these types of handbags are very popular and in vogue.
Here are some of the other pictures from the class. Thank you, Students, I had so much fun! Thank you and Welcome!


















Sign up for our next class happening August 17, 2021 called Junk Drawer Hearts.