What was I Thinking?
Oops, I made a terrible mistake.
I 've been feeling a little unfocused lately and not sure what I'm supposed to be doing right now. I'm sure some of you are in the same boat. What was I thinking having a Girlfriend Sale during this difficult time? It should have read Goodbye Summer Sale. Tell your bestie about the sale at Jewels & Fiber.
Shop now for discounted craft supplies, vintage stamps, and mixed media tools!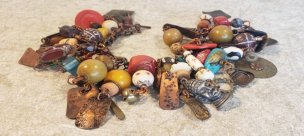 Metal Mania
Hello, my Creatives,
I am so excited to offer again, with limited spots, the upcoming Metal Mania Workshop, the ABC's of putting color on metal.
With all the interest in this workshop, you have helped me out of my stump.
So, it is back on the calendar for October 20, 2020 at 11:30 AM at Jewels and Fiber Art Studio. Weather permitting, and social distancing, this class may take place outdoors.
Take your jewelry making skills to the next level.
Etching, cutting and dapping copper, brass and recycled tin to create one-of-a-kind jewelry pieces.
Learn basic polishing, creating shapes, antiquing and metal filing. Using simple jewelry tools, the possibilities are endless!

If you paid your registration in March, please don't worry you are still registered. Just let me know if you can attend. Email me at jewelsandfiber@comcast.net

Space is limited.

Sign up now
---
.


ARS GRATIA ARTIS

Sacramento Fine Arts Center
5330-B Gibbons Drive
Carmichael, CA 95608
September 22 – October 4, 2020
I cannot believe I have not shared this yet.
I am not one for blowing my own horn. However, I am learning to, as an aspiring entrepreneur, I am supposed to, right? Better late than never.

Get your tickets today!

You can win one of my kimono jackets. It is the only wearable art in the entire show. This a fundraiser to support programs and keeping their doors open.


You can purchase tickets from at the Sac Art Center website
https://www.sacfinearts.org/


---
Dyeing to Stamp

Dyeing and stamping fabric is one of the easiest ways to create your own cloth. You can choose your color progressions or value gradations using adjusted amounts of dye. My favorites paints are water base paints. I love to add bleach discharge, Shibori (Japanese tie dying technique), stamping and stenciling. I use acrylic paints, all varieties, fabric craft paints and dyes. I love, love finding things around the house, studio and everywhere to create my own textile stamps.







You can use just about anything to print texture on cloth. Look around in your junk drawer for plastic, rubber or metal objects with holes or bumps, sponges, bubble wrap. You can find plenty of objects in the hardware store, supermarket kitchenware aisle, at the dollar store or at garage sales. The list is endless. You can use almost anything as a stamp: forks, wire whisks, even foam pool noodles. I have been collecting for a long time. Here are some of my favorites just to give you some ideas.





Construction fencing, bubble wrap, foam and rubber


Carve your own stamp, use rubber bands


Stamps and stencils







Sew Easy Strip Piecing






Using my dyed and stamped fabrics




Jewels & Fiber Art Studio
2438 Loma Vista Dr.
Sacramento, CA 95825

jewelsandfiber@comcast.net