Happy New Year Everyone!
---
New Designs
Hope you all have been staying busy crafting, baking sour dough bread, or doing lots of DIY projects around the house. And not going COVID crazy.
I have been creating new designs and styles of handbags and totes. I have made lots of samples made from a colorful mixture of mud cloth, upholstery textiles and pieces found from a trip to FabMo this fall.


Please tell me which style you like. Click here to view them










These fabrics inspired this bag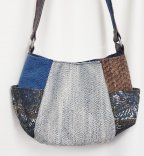 ---
Books to Inspire
I have added a few new and new to me titles to the listing of books, including these shown here. Whether you are a knitter, sewer or just need some inspiration. Shop new books here.







---
Outdoor Dyeing Class

I have rescheduled our Dye Day class for March but not sure, due to the uncertain times. Still working on transitioning to zoom. Classes will be scheduled soon plus an Indigo Dyeing class. Visit the website for dates, details and to register. Limited to five students and each session will take place spaced throughout the shop and our shady outdoor parking lot. Each student will have their own 6-foot table, their own solution (no shared supplies), and required to wear a mask. Due to the increased setup requirements, we MUST have 6 students to conduct these classes, so register early!




View the Details















Jewels & Fiber Art Studio
2438 Loma Vista Dr.
Sacramento, CA 95825

info@jewelsandfiber.com